People
The staff, volunteers and board members who make it all work.
Our favorite people.
Sauvie Island Center is run by a small staff and a board of directors. In addition, we are supported by a robust team of volunteers who are the backbone of our organization. Simply put, we would not be able to do what we do without them.
Staff
Helen Dixon, Program & Outreach Manager
Helen first worked with Sauvie Island Center as an intern in the fall of 2019, she returned again in July 2021 for Summer Camp, and then as a staff member in the fall. Helen grew up in the Portland area and has always loved being in nature and working with children. 
Helen has her BS in Nutrition from Arizona State University. After graduating she worked and traveled eventually realizing that farm and garden based education are where she wanted to land. Helen enjoys talking about community, food, and the outdoors. She is passionate about food and committed to body positive health and intersectional environmentalism. Working with the Sauvie Island Center allows Helen to satisfy her personal interests while staying true to her commitments.
Joanne Lazo, Executive Director
Joanne Lazo joined the Sauvie Island Center staff in March of 2011 as Marketing Manager and was promoted to Executive Director in July of 2018.  Joanne grew up in the Pacific Northwest where her first job was picking strawberries on the small farms that dotted the hills west of Salem. After graduating from the University of Oregon and spending several post-college years working in advertising in New York City, the beauty and bounty of Oregon called her home. Recently, Joanne served as Marketing Director for the Laughing Planet Cafe. She was also served as the Marketing Director for the Portland Le Cordon Bleu College of Culinary Arts, where she developed and administered the school's corporate giving program.
Joanne has always been committed to community service, volunteering with the Volunteer Action Committee of Eugene while in college. In New York she served as a tutor for at risk children. When she returned to Oregon, Joanne gave her time to a variety of education-based non-profit organizations.  Working with the Sauvie Island Center allows Joanne to merge her two passions: commitment to community and a love of fresh, local food.
McKenzie McCann, Education Manager
McKenzie comes to the Sauvie Island Center after a decade in environmental education. She's been a nature mentor in Vermont and through Rewild Portland, interpretive educator at the Chicago Botanic Garden, and the garden coordinator at SunGarden Montessori and Beach Elementary. Most recently, she was a member of the Twin Oaks Community in rural Virginia where she managed the communal kitchen, milk processing operation, and sales and accounting departments for Southern Exposure Seed Exchange.
McKenzie's B.A in Environmental Humanities is from Sterling College (Craftsbury Common, VT) and her M.A. E.d in Environmental Education is from Prescott College (Prescott, AZ). Whether it's through forest, farm, food, or fork, McKenzie's professional passion is facilitating meaningful outdoor experiences to support deep nature connection. She is always excited about children's books, seed saving, raw milk, and new recipes.
Sean Jacobson, Garden Manager
Sean Jacobson was born and raised in inner north east Portland. A lifelong Portland native Sean has spent the last decade as a practicing permaculture designer and behavioral scientist. Sean has a deep love for the ecosystems of the Pacific Northwest and spends as much free time as he can backpacking and hiking in the last sliver of old growth ecosystems in our bioregion.
Sean is graduate of Grant High School and Portland State university with a BS in Anthropology and Philosophy. Sean has independent permaculture certification from City Repair, Alderleaf Wilderness College, Siskiyou Permaculture and was a student of the late Toby Hemmenway. Sean hopes to provide our SIC students the profound and life changing experiences with nature and science that placed him on his path to working with the natural world.
Board of Directors
Officers
Celine Fitzmaurice, Board Chair, is a community-based learning instructor and faculty development professional at Portland State University.  She teaches senior capstone courses on a variety of environmental and social justice themes. Her "Farm Education for Youth" capstone has partnered with the Sauvie Island Center since 2005. She is deeply committed to the Sauvie Island Center and has served as a board and committee member on and off since its inception. In her spare time, Celine enjoys hiking, singing, and introducing kids to the wonders of the more-than-human world.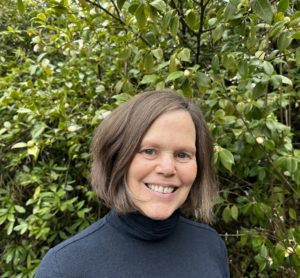 Sally Hersh, Secretary, is a nurse-midwife and an associate professor of clinical nursing at OHSU. Prior to moving to Oregon in 1990, she worked as a midwife in Chicago and Boston with families from Mexico, Central America, and Puerto Rico. Sally has a keen interest in the intersection between health education, nutrition, and food equity, particularly pertaining to pregnancy and family health. She believes that pregnancy and childhood education about healthy food can have a lifelong impact on children and their families. She enjoys exploring the beauty of the Pacific Northwest, biking, vegetarian cooking, singing, and spending time with her husband, 2 daughters, son-in-law, and family dogs and cats.
Treasurer – To come
Members at Large
  Wende Morgaine Garrison is a passionate educator and project manager with twenty years of experience implementing national educational grants. She taught at Portland State University from 2002 to 2017 and holds interdisciplinary degrees (both BS and MS) in Film & Television and Rhetoric & Composition, also from Portland State University. Wende looks forward to using her organizational skills to support grant procurement and management, and strategic planning for the Sauvie Island Center. When she isn't working, Wende enjoys exploring Portland with her family's two beloved white Schnoodle puppies.
Pratibha Guttal has been a design engineer at Intel for over fifteen years. Prior to moving to Portland, Oregon, in 2008 she lived in San Jose where she received her M.S. from San Jose State University and worked at Sun Microsystems for two years. She grew up in India and immigrated to the United States in 2002 for her family. In India, she grew up by her grandfather's farm, a place she considered her second home, where she first developed a passion for aiding the environment. She also loves being a part of a community whether, in India, California, or Oregon, she enjoys finding commonalities with others and being an active member of her community. She is a member of the Chinmaya Mission Portland Organization, and she has been volunteering there for almost a decade. Pratibha also loves to hike and she tries to experience all the trails Portland has to offer with her husband, two daughters, and golden retriever. She wants to pass her devotion to serving her community to her daughters, and their generation by informing them of the beauty and importance of the environment. By cooking with fresh and local produce and limiting waste, she hopes to spread her belief in the importance of farm-to-table eating. That's why she believes in Savie Island Center's mission and wants to be a part of it.
Kim Marcus – photo and bio to come
Divya Pahwa is a registered dietitian with a master's degree in public health from the University of Washington. She is passionate about food justice, food security, and health at every size. Before arriving in Portland, Divya lived in Seattle and San Francisco, where she interned/volunteered with organizations including Northwest Harvest (Seattle), Public Health King County, and Center for Urban Education about Sustainable Agriculture (San Francisco). She is currently a mentor with Diversify Dietetics. Her experience in nutrition and food systems has led her to strongly believe in the impact that the Sauvie Island Center can have through its mission.
Caz Swank is currently studying for a Masters in Leadership for Sustainability Education at Portland State University. Prior to that she completed a Graduate Certificate in Sustainability, also at PSU. Caz's previous career was in event production, mostly in a freelance capacity, producing events around the world. Before moving to Portland in 2017, Caz resided in the UK where she was born and lived most of her life between rural North Yorkshire and London.
Her early years on farms and in the country instilled a passion for the outdoors, which continues here in Oregon as she loves to explore the City and state on foot, bike and by camper van. She believes passionately in the work that Sauvie Island Center is doing to give young people the opportunity to build connections to and understanding of our natural world.
Advisory Board Members
Shari Raider – Farmer/Founder
Cory Schreiber – Founder
Volunteers
The Sauvie Island Center is thriving thanks to the hard work of our talented and dedicated volunteers!
Each season we profile a few of our outstanding volunteers in our Volunteer Spotlight.
Are you passionate about gardening, nature, or working outdoors with children? If so, consider volunteering with Sauvie Island Center! Volunteers lead small groups of elementary school students through interactive, hands-on, farm-based lessons on plant life cycles, soil science, pollination, and more. Learn about volunteer opportunities here.