People
The staff, volunteers and board members who make it all work.
Our favorite people.
Sauvie Island Center is run by a small staff and a board of directors. In addition, we are supported by a robust team of volunteers who are the backbone of our organization. Simply put, we would not be able to do what we do without them.
Staff
Joanne Lazo, Executive Director
Joanne Lazo joined the Sauvie Island Center staff in March of 2011 as Marketing Manager and was promoted to Executive Director in July of 2018.  Joanne grew up in the Pacific Northwest where her first job was picking strawberries on the small farms that dotted the hills west of Salem.
After graduating from the University of Oregon and spending several post-college years working in advertising in New York City, the beauty and bounty of Oregon called her home. Recently, Joanne served as Marketing Director for the Laughing Planet Cafe. She was also served as the Marketing Director for the Portland Le Cordon Bleu College of Culinary Arts, where she developed and administered the school's corporate giving program.
Joanne has always been committed to community service, volunteering with the Volunteer Action Committee of Eugene while in college. In New York she served as a tutor for at risk children. When she returned to Oregon, Joanne gave her time to a variety of education-based non-profit organizations.  Working with the Sauvie Island Center allows Joanne to merge her two passions: commitment to community and a love of fresh, local food.
Jenna Lowe, Program Manager
Jenna came to the Sauvie Island Center in 2019 as a PSU Capstone Student (a community based learning requirement for completing my studies), where she earned a bachelor's degree in Political Science. After a wonderful Spring term with the Sauvie Island Center Jenna opted for another Capstone class volunteering and creating lesson plans with the North Clackamas Boys and Girls Club.
Finding real enjoyment and fulfillment working with youth, Jenna returned as a volunteer with the Sauvie island Center and for the first time as a staff member for Summer Farm Camp in 2020. She says…. "I just kept coming back!" Rejoining as a volunteer in Winter and Spring of 2021 Jenna was officially hired on as an educator in April 2021, and then brought on as a program manager at the end of the summer 2021. 
 A native Oregonian, Jenna grew up mostly in SE Portland, and raises her son there. Jenna comes from a family of outdoor enthusiasts: where gardening, camping, hiking, and bird watching have always been a part of her life. She was raised to participate in and value community service. Jenna spent years volunteering at her local elementary school and food pantry. According to Jenna…"I feel at home in nature and with people. I am constantly curious and amazed by our natural world, and truly love how much I get to learn through teaching and interacting with it and people of all ages! I've found an amazing opportunity and incredible community in the staff, students, and partners with Sauvie Island Center and Topaz Farm."
Helen Dixon, Program & Outreach Manager
Helen first worked with Sauvie Island Center as an intern in the fall of 2019, she returned again in July 2021 for Summer Camp, and then as a staff member in the fall. Helen grew up in the Portland area and has always loved being in nature and working with children. 
Helen has her BS in Nutrition from Arizona State University. After graduating she worked and traveled eventually realizing that farm and garden based education are where she wanted to land. Helen enjoys talking about community, food, and the outdoors. She is passionate about food and committed to body positive health and intersectional environmentalism. Working with the Sauvie Island Center allows Helen to satisfy her personal interests while staying true to her commitments.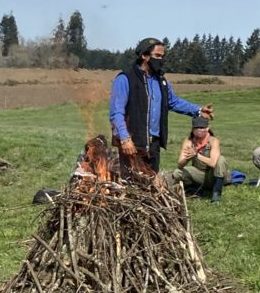 Cuautehmoc Villa, Outreach Manager
Cuautehmoc is a descendant of the Taino people of the Caribbean Islands. Combining Tribal Ecological Knowledge and regenerative farming practices, Cuauhtémoc helps farmers and educators adopt and share practices that protect and improve the land, water and environment. He is a passionate educator, using the storytelling techniques of his ancestors to teach farmers and children about microbiology and soil health.
Today Cuauhtémoc lives on Sauvie Island. He is actively collaborating with Topaz Farm, an emerging leader in regenerative farming practices, while also supporting the Sauvie Island Center's farm-based education programs. 
On any given day you might find Cuauhtémoc on Topaz Farm mixing up a batch of bokashi or organizing a biochar burn. You can learn more about Cuauhtémoc's inspiration for conservation work in the short film "The Sky Is the Roof" (Suscol Intertribal Council).
Board of Directors
Officers
Celine Fitzmaurice, Board Chair, is a community-based learning instructor and faculty development professional at Portland State University.  She teaches senior capstone courses on a variety of environmental and social justice themes. Her "Farm Education for Youth" capstone has partnered with the Sauvie Island Center since 2005. She is deeply committed to the Sauvie Island Center and has served as a board and committee member on and off since its inception. In her spare time, Celine enjoys hiking, singing, and introducing kids to the wonders of the more-than-human world.
Shreta Prakash – Board Secretary
Rainbow Wong – Treasurer
Members at Large
Divya Pahwa is a registered dietitian with a master's degree in public health from the University of Washington. She is passionate about food justice, food security, and health at every size. Before arriving in Portland, Divya lived in Seattle and San Francisco, where she interned/volunteered with organizations including Northwest Harvest (Seattle), Public Health King County, and Center for Urban Education about Sustainable Agriculture (San Francisco). She is currently a mentor with Diversify Dietetics. Her experience in nutrition and food systems has led her to strongly believe in the impact that the Sauvie Island Center can have through its mission.
Advisory Board Members
Shari Raider – Farmer/Founder
Cory Schreiber – Founder
Volunteers
The Sauvie Island Center is thriving thanks to the hard work of our talented and dedicated volunteers!
Each season we profile a few of our outstanding volunteers in our Volunteer Spotlight.
Are you passionate about gardening, nature, or working outdoors with children? If so, consider volunteering with Sauvie Island Center! Volunteers lead small groups of elementary school students through interactive, hands-on, farm-based lessons on plant life cycles, soil science, pollination, and more. Learn about volunteer opportunities here.