We're deeply grateful.
Thanks to a collection of partners, sponsors and foundations we're growing healthier kids and adults and a more vibrant community.
Partners
Our newest, and most exciting, partnership is with Topaz Farm. Early in 2020 Kat and Jim Topaz offered the Sauvie Island Center the opportunity to bring our  farm-based education program to their site. We are humbled by Kat and Jim's incredibly generous offer, which includes 3 acres of farm land, rent-free office and storage space, and a shared commitment to helping children and the whole community connect the food we eat to local farms.  When we met with Kat and Jim we knew immediately that their vision for Topaz Farm was something that we wanted to be a part of.
Community and experience are the core of everything on Topaz Farm. Located just 12 miles from downtown Portland on Sauvie Island, Topaz Farm offers 130 acres to explore, learn and connect with farming, nature, food and the community. Summer activities include u-pick berries, u-cut flowers, weekly outdoor concerts, food stands, farm-to-plate dinners, private events and a store featuring local island produce. Topaz Farm also features fall harvest activities including multiple corn mazes, pumpkin patches and Halloween entertainment.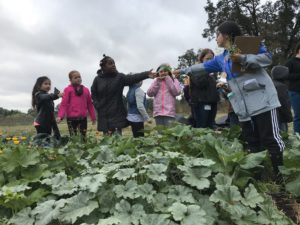 Our new location and partnership with Topaz Farm will allow us to expand our educational toolkit and offer more opportunities for inventive, engaging farm-based learning. Don't worry,  the best of the existing curriculum will remain intact, including all modules and curriculum alignment to Next Generation Science Standards. Here are just a few of the exciting new offerings we're working on, alongside Topaz Farm:
a "bee wheel" with up to an acre of land filled with interactive "spokes" of native, pollinator-friendly plants blooming seasonally
a Grow Lunch Garden and Food Forest planted and harvested by students;

 

an educational worm and compost operation;
a turtle habitat restoration project;

 

a community-driven effort to build bird and bat houses around the farm.

 
We're particularly excited that Topaz Farm will be open to the public seven days a week, allowing students to learn, taste and grow together with family and friends year-round.
Sponsors
Whole Foods Market is a long-term partner, providing support for events, field trips and our Grow Lunch Garden for more than 10 years.

Providence Health & Services has been our Farm Camp sponsor for the past five years. Their support has allowed us to provide camp scholarships to more than half of registered campers each summer.
Portland Nursery has been a long-time supporter of the Sauvie Island Center, providing plant credits and financial support for events.
Sauvie Island Natives, and owner Jane Hartline, are also long time supporters of the Sauvie Island Center.
Many more local Portland businesses support our work.
Foundation Support
East Multnomah County Soil & Water Conservation District
Juan Young Trust
Kate Svitek Memorial Foundation
Oregon Department of Education Farm to School
Templeton Foundation
West Multnomah Soil & Water Conservation District