We are happy to be offering another Biochar workshop with Cuauhtem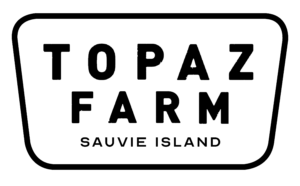 oc at our beautiful home on Topaz Farm! If you aren't sure what Biochar is, you want to learn more, or you simply want to find biochar community join us on the farm.
What is Biochar?
Biochar is a specialized form of charcoal produced using high heat, it is often used as a soil amendment to increase yields and conserve nutrients and water. For more information on just how cool biochar is, watch this short video of our Biochar Workshop's leader, Cuauhtemoc Villa, talking about biochar, microbes, and the interconnectedness of it all – we bet you'll be inspired!
About Cuauhtemoc Villa
To really know what to expect at the Workshop you need to know a little bit about the workshop's leader, the incredible Cuauhtemoc Villa. We have had the pleasure of collaborating with and learning from Cuauhtemoc over the last year.
Cuauhtemoc is a descendant of the Taino people of the Caribbean Islands. Combining Tribal Ecological Knowledge and regenerative farming practices, Cuauhtémoc helps farmers and educators adopt and share practices that protect and improve the land, water and environment. He is a passionate educator, using the storytelling techniques of his ancestors to teach farmers and children about microbiology and soil health.
Today Cuauhtémoc lives on Sauvie Island. He is actively collaborating with Topaz Farm, an emerging leader in regenerative farming practices, while also supporting the Sauvie Island Center's farm-based education programs. 
On any given day you might find Cuauhtémoc on Topaz Farm mixing up a batch of bokashi or organizing a biochar burn. You can learn more about Cuauhtémoc's inspiration for conservation work in the short film "The Sky Is the Roof" (Suscol Intertribal Council).
Workshop details
DATE & TIME: Friday, February 18th from 12pm (noon) – 4pm at Topaz Farm. You are welcome to come for any portion of the time.
This hands-on workshop is open to anyone who is interested in coming out and learning and growing with us; this workshop is offered on a sliding scale from $0-$25.
Register here
https://www.sauvieislandcenter.org/wp-content/uploads/2021/10/IMG_4135-scaled-e1634580060211.jpg
293
260
http://www.sauvieislandcenter.org/wp-content/uploads/2017/02/SIC-logo-web-340-300x125.png
2022-02-04 21:20:29
2022-03-08 20:13:34
Biochar workshop Friday, February 18 noon to 4 @ Topaz Farm