Thanks to our funding partners at West Multnomah Water and Soil Conservation District, we are able to run a sequenced, 9-year curriculum for the Sauvie Island School. From Kindergarten to 8th Grade, each class comes back annually and the lessons are aligned with the in-house, place-based curriculum of this charter school.
In their 6th Grade year, the field trip theme is Poetry in the Garden. The class visited us on April 7th this spring.
Humans have been gaining artistic inspiration from nature since time immemorial. Our opening circle included readings from famous nature writers such as the master haiku poet Kobayashi Issa, naturalist/philosopher Henry David Thoreau, and the poet Mary Oliver. We highlighted that the process of writing nature poems begins with careful observations of the landscape.
To assist in structuring student observations, we had two activity stations in the morning: Sound Mapping and Event Mapping. Sound Maps capture the sensory experience of being on the land. Poetry is as much about meaning as it is about how it sounds when read aloud. Event Maps capture the experience of landscape travel though pictures and words. Event Maps infuse our landscape with stories that contribute to building a sense of place. At each station, students were given time to create their maps and practice writing poems.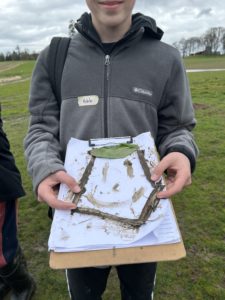 After lunch, we asked the students, "So, what is a poem, anyway? The purpose of nature writing is to capture your experience of being outside and on the land. So far today, we have been capturing those experiences mostly with words. This afternoon, we will be writing poems without any words."
Students were given pieces of blank paper. Some students made muddy foot prints. Some students rubbed herbs and flowers on their paper to make poems you can smell. The student on our right made a three-dimensional poem using mud as a glue for other natural materials they found.
We ended our time together by sharing the maps, artwork, poems, and stories we had created that day with each other. We even had one student who wrote a delightful and humorous song about his lunch and the connections between his food and the garden.
When we asked the Sauvie Island School 6th Grade classroom teacher what she would like to tell West Multnomah Soil and Water Conservation District about her class' experience, she replied:
"I love how the kids were allowed to be kids! They didn't get in trouble for playing in the mud, falling in the water, or running around on the farm. They all had so much fun."
We definitely look forward to having next year's 6th Graders visit us too for another day of Poetry in the Garden.
https://www.sauvieislandcenter.org/wp-content/uploads/2023/05/IMG_3937-1-scaled.jpg
1920
2560
http://www.sauvieislandcenter.org/wp-content/uploads/2017/02/SIC-logo-web-340-300x125.png
2023-05-01 21:58:16
2023-05-03 18:21:03
Poetry in the Garden 2023